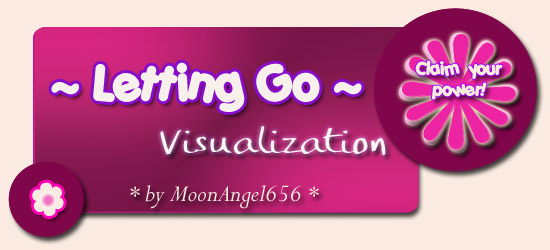 Visualization for "Letting Go"

This visualization is great for getting your energy back from the person you have been dwelling on. In all relationships we exchange energy. When we dwell or obsess over someone, our energy blankets that person in a suffocating manner. This is nothing to feel bad about, we all do it at one point or another. If you can consciously get your energy back from their space, you can have more personal power and focus on you. Not to mention, the person will notice your energy is receding or gone. Please understand that every person and case is different. Some people may react overnight to your energy shift, some may take weeks to notice.
The best preparation for this visualization is to quickly practice closing your eyes and seeing the person in question in front of you. The picture to the right is the basic idea of what you will visualize. If you have a hard time visualizing in general, try your best to imagine what is being said or look at a picture of the person right before you start. I will also ask you to choose a color that you like and represents you. It might be helpful to have a color in mind before starting.
Please be aware that this is a quick 4 minute exercise. I talk at a normal speed so just let your mind and intuition give you immediate responses. Let your imagination and visualization work for you!
Things to Remember
*Your energy will constantly be in flux. It is okay if you have a bad "dwelling day." Just acknowledge it and try again. Every effort counts.

*You can do these types of visualizations without effecting your feelings for someone. It is okay to love and care for them, just detach long enough to focus on you.

*You become more attractive to potential partners when you are feeling good and your energy is working for YOU.
*
Get your energy & power back!
*
Please try my recorded Letting Go Meditation
Letting Go Meditation
---
Web Design & Recording � 2006 MoonAngel656