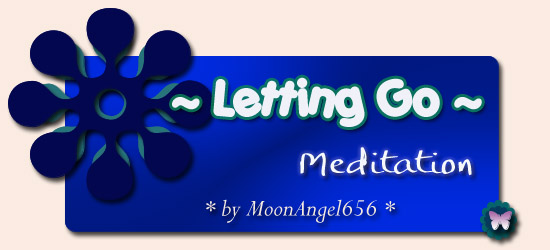 Meditation for "Letting Go"

This quick meditation will help you start letting go of a past relationship or another person in order to free up your energy and allow predictions to happen. Sometimes, because of fear, we stand in our own way. This meditation will help you relax and start facing some of those fears.
The best preparation for this meditation is to relax and really start believing that you want to let go. If you are not ready to let go, this meditation will only help you subconsciously right now. Be open to the meditation and remember that it is a short one to jump start you.
Please be aware that this is a quick 3 minute meditation. I talk at a normal speed so just let your mind and intuition give you immediate responses. Let your imagination and visualization work for you!
Why do this Meditation?
*Because you WANT to "let go" of someone that you have been focusing on too much.

*Because people "sense" that your attention is on them. Each person senses it in different ways; telepathy, energy, thoughts, feelings, etc. If you pull your attention away from them, they feel a subtle shift and then usually seek you out. This of course is not a guarantee, but "letting go" is a common and useful piece of advice and can be very successful.

*Most importantly, because it's time to focus on YOU and what you want and need. If you spent half the time thinking about yourself and how to get what you want instead of thinking about someone else, your life would blossom and you would become more attractive to potential partners.
*
Letting go is a WIN*WIN situation all around!
*
Please try my recorded Letting Go Visualization
Letting Go Visualization
---
Web Design & Recording � 2006 MoonAngel656