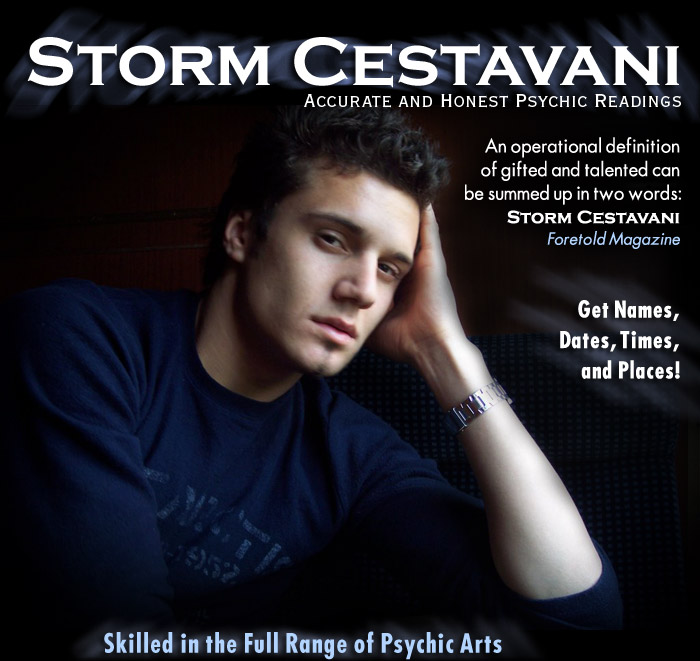 Storm Cestavani has been reading professionally for nearly twenty-five years and has amassed great skill at the divinatory arts, such as:


Storm provides clients with practical, down to earth information that is realistic and reliable to assist you in making realistic and well formed decisions in your life. Whether your questions are about love, romance, money, financial freedom, or understanding the important people in your lives – Storm delivers! He is also an expert in timing!

Are these questions keeping you up at night?

Is he coming back?
Does he really love me?
Is he seeing someone else?
Is he REALLY the one?
Will I get the job?
Will my financial outlook improve?

Get answer to your most pressing questions!

Storm is a high-level student of the world-renowned Kabbalah Centre and the personal student of heir to the Centre, Yehuda Berg, author of "The Power of Kabbalah." This most ancient of spiritual teachings, studied by celebrities and power-brokers worldwide, is the foundation of Storm's psychic work and he uses its mystical power to guide his clients towards their optimal existence.

Storm gained international notoriety as the radio host for syndicated talk show Psychic Friends Live. He has appeared in five nationally televised infomercials, reading for star Dionne Warwick, a recent episode of FOX's Blind Date, and has appeared on a number of television and radio shows.
Call Storm Cestavani now to discover what the future holds!